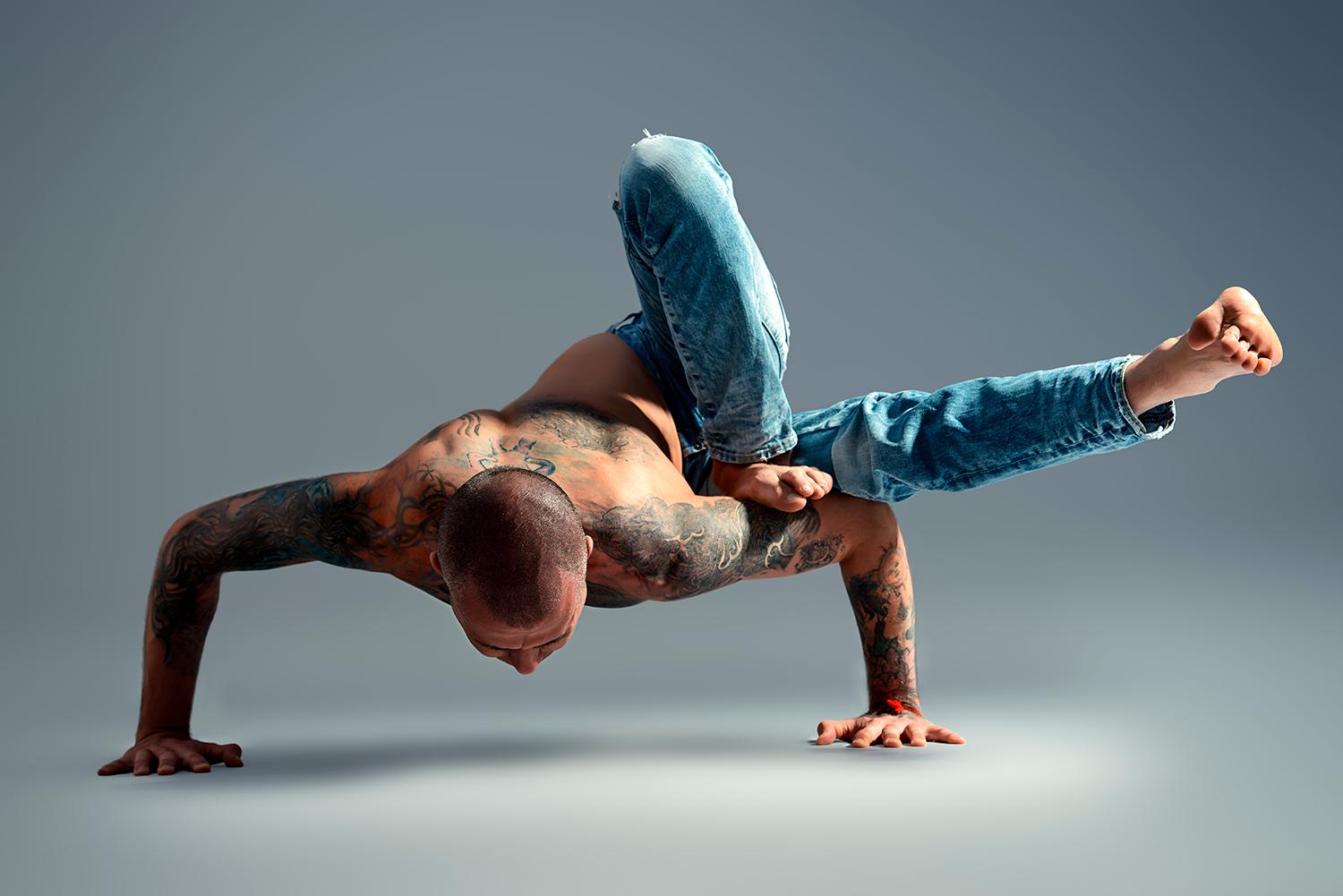 When you step into a yoga class, it's likely you'll notice women broadly outnumbering men. This disbalance isn't always the case, and there's been a significant shift in recent years as more men become intrigued by the perks of yoga. Whether it's the calming effects on the mind, or that it makes the perfect complement to other workout routines, yoga has become a necessity for many well-known men. These days more and more male celebrities are being drawn to their mats on a regular basis, and we're not one bit mad about it!
Matthew McConaughey
Notorious for being shirtless on the beach, Matthew McConaughey enjoys bringing his practice surfside for all to bear witness. Similar to the roles he plays on the big screen, Matthew isn't afraid of a challenge and has been spotted exploring some advanced yoga postures.
REASON FOR PRACTICING
It's hard work mentally and physically keeping up with one demanding role after another. Yoga brings variety to Matthew's regular workout regime while inducing mental clarity and physical restoration.
STYLE OF CHOICE
There isn't one specific style of yoga that Matthew conforms to; instead, he embraces his spirituality while challenging his physical being rather than adhering to one approach.
Adam Levine
Known as one of the sexiest men alive, Adam Levine has been a front-runner in the celebrity yoga community. In a 2011 interview; the singer was cited declaring, "At any Maroon 5 concert, you'll see a room backstage marked 'Yoga.'" It's been reported that he dedicates an hour before shows to his yoga practice, and it's obviously paid off.
REASON FOR PRACTICING
Adam attributes his beautiful physique in large part to yoga and the physical challenges it presents. Beyond the physical gains, the ability to remain still and focused in a chaotic world has brought him back to yoga time and time again.
STYLE OF CHOICE
Adam implements both calming and invigorating breathwork techniques along with meditation and physical asana. He regularly follows the sequence of postures from the Ashtanga Primary Series to challenge himself mentally and physically. This rhythmic flow between breath and movement is also practice in traditional Vinyasa classes, which Adam is also accustomed.
David Beckham
David and Victoria Beckham are lasting proof that couples who yoga together, stay together. The gorgeous pair has been practicing yoga together since 2009, and they continue to live a healthy, peaceful life. The soccer star has found a balance between relaxation and strength by implementing yoga into his daily life.
REASON FOR PRACTICING
Beyond finding more profound intimacy and connection with his wife, David uses yoga as a means of staying in shape. It's been an excellent healer for his body given the amount of stress placed on it during competitive sports. Yoga ensured that he would be mentally and physically up to the challenge of playing the sport he loves for years to come.
STYLE OF CHOICE
The Beckhams prefer heated, physically demanding styles of yoga, notably following Bikram. This style keeps them both looking and feeling their best by sweating out toxins and maintaining a lean frame.
Russell Brand
Comedic actor Russell Brand does more than just practice yoga, he teaches as well. He enjoys a yoga and meditation session daily to keep himself on the spiritual path towards enlightenment.
REASON FOR PRACTICING
The former drug and alcohol addict can proudly proclaim that he's been sober for 13 years, and yoga has been with him every step of the way. In an interview regarding his yoga practice, he said "It's really good if you've had addiction issues. It's highly psychological, and very beautiful, and overwhelming, and real, and trippy."
STYLE OF CHOICE
Russel has taken a keen interest in Kundalini yoga, characterized by deep meditation and energy work. He was quoted stating, "I'm dedicating myself to all sorts of interesting things, you know. Transcendental meditation, Kundalini yoga, these things are right good for the old spirit."
Jake Gyllenhaal
Despite his yoga journey starting off with ex-girlfriend Reese Witherspoon, Jake has since taken practice into his own hands. It's likely he became accustomed to the plethora of benefits it offered and couldn't resist returning to his mat.
REASON FOR PRACTICING
Jakes reasons for returning to his mat on a regular basis following the breakup from Reese remain a mystery. Many speculate that he's simply fallen for the way it makes him feel.
STYLE OF CHOICE
Jake frequents public vinyasa yoga classes and has procured quite the following. Many women struggle to get in his mat space and practice alongside Hollywood's sweetheart.
Justin Timberlake
Power couple Justin Timberlake and Jessica Biel enjoy yoga together several times each week to stay healthy and fit. Now that he's brought sexy back, he's keeping it here with yoga.
REASON FOR PRACTICING
It would appear that Justin's motivation for practicing, besides maintaining overall health, would be to deepen his connection to his wife.
STYLE OF CHOICE
The pop star has been seen taking a traditional Hatha approach to yoga, working individual postures to reap the benefits
Chris Hemsworth
Superhero movie roles require extreme physical strength and mental stamina to boot. Chris Hemsworth can gather both of these through his consistent yoga practice.
 REASON FOR PRACTICING
His supermodel wife, Elsa Pataky, encourages Chris to explore his practice as it's what kept her healthy while being pregnant with their three children. It's become a time for family bonding and appreciation for all the abundance in their lives.
STYLE OF CHOICE
Chris implements restorative stretching to accompany his intense weight-training routine. Although the gym sessions can be challenging, he stated "I prefer to be training than not. It gives me more energy and I just generally feel better about myself. I feel like I've earned that beer at the end of the week."
Sting
Yoga is much more than just an achievement of postures to Sting; he brings yogic philosophies to every aspect of his life. His organic farm in Italy nourishes his body and mind while a consistent asana practice keeps his body in shape.
REASON FOR PRACTICING
Relieving the stress of touring is a definite advantage of yoga for Sting, but it's anti-aging properties are what keeps him coming back. Regarding his yoga practice he stated, "If anything, it's reversing my aging process. I can now do things with my body that I wouldn't even have thought possible when I was an athletic teenager."
STYLE OF CHOICE
He and his wife regularly practice both together and separately to keep their yoga connected but also personal. Tantra, Jivamukti, and Ashtanga are the styles of choice for Sting.
Colin Farrell
Also aboard the hot yoga train is Irish hottie, Colin Farrell, who loves breaking a sweat and detoxing his toned frame. Yoga increases the connection he holds to his physical self and deepens his desire to live a healthy lifestyle.
REASON FOR PRACTICING
In addition to feeling good, Colin hopes that steady practice will increase his longevity. He revealed, "Part of it is fear-based and wanting to live forever. I would like to live as long as possible because I'm really enjoying being alive."
 STYLE OF CHOICE
Colin's been spotted leaving several Bikram yoga studios around the Hollywood area. We can deduce that the heated, intense classes call to him and are to credit for his incredible body.
Lebron James
Basketball star Lebron James is renowned for his outstanding athletic abilities, many of which he attributes to his consistent yoga practice. Yoga has created a stable frame for Lebron, resulting in fewer injuries throughout his career.
REASON FOR PRACTICING
After seeing what yoga could do for him, Lebron took it upon himself to extend his wisdom to the local youth. He's using his platform to demonstrate the advantages of yoga to young admirers.
STYLE OF CHOICE
There isn't one set structure for how this NBA star practices, he uses yoga to fuel the connection between mind and body. Lebron explained, "Yoga isn't just about the body, it's also about the mind and it's a technique that has really helped me. You do have to focus because there's some positions that can really hurt you at times if you aren't focused and breathing right."
Woody Harrelson
Woody HarrelsonWoody is another example of a celebrity who extends yogic teachings to all facets of his life. He's lived dairy-free for over 30 years and continues to sustain himself and his family from their organic farm.
REASON FOR PRACTICING
Yoga and healthy living have become a way of life for Woody and his family. His practice keeps him feeling young and agile, and this goes for in the bedroom too! During an interview, he explained "Yoga is the best thing for your sex life! It keeps you limber in all kinds of ways. It teaches you to love your body and your partner's body. But more than anything, it keeps your mind liquid, and nothing's sexier than that."
STYLE OF CHOICE
Although he appreciates the simplicity that yoga can offer, Woody also ventures into some of yoga's most difficult postures. He enjoys partner yoga as a way to restore a sense of balance in what can feel like a highly unbalanced world.
Orlando Bloom
His roles in The Lord of the Rings trilogy put him through thorough archery, canoeing, knife, and horseback training. Orlando has accompanied these skills with yoga to off-balance the stress of show business.
REASON FOR PRACTICING
A deepened sense of spirituality keeps Orlando coming back for more mat time. He enjoys broadening his perspective of new-age philosophies and trying to incorporate holistic approaches into his life, including yoga and reiki.
STYLE OF CHOICE
Lengthy meditations accompany Orlando's faithful Hatha yoga practice. He has claimed to begin and end every session with a bow and 'Namaste.'
Russel Simmons
This entrepreneur needs yoga to complete the balancing act of successful enterprises he's accumulated over the years. This Hollywood mogul even opened his own tantric yoga studio and became a vegan in response to the effects of yoga.
REASON FOR PRACTICING
Russell has found the key to slowing down amidst the chaos of showbiz, and he's eager to share with anyone willing to learn. In a blog post, he stated "The beauty of the practice of yoga is that it teaches you how to take those precious seconds of stillness and lengthen them from seconds, to minutes, to a lifetime of enlightenment,"
STYLE OF CHOICE
Yoga has become a part of Russell's daily life while he maintains his successful record label and clothing line. In addition to his regular devotional yoga practice, he incorporates meditation and other mindfulness techniques to reduce stress and anxiety.
Robert Downey Jr.
Recovering from drug addiction and dedicating yourself to a healthy lifestyle is no easy task, even for Iron Man. Robert Downey Jr. chose to take matters into his own hands and clean up his act following an arrest in 2001 related to drug use. Yoga has become a tool for recovery over the years, aiding him to achieve the wellness he'd been missing.
REASON FOR PRACTICING
Getting in touch with his spiritual side and ditching the hot temper that weighed him down for years makes yoga an obvious addition to Robert's life.
 STYLE OF CHOICE
It takes a village to keep Robert feeling his absolute best, including a martial arts instructor, massage therapist, and a personal power yoga instructor. When asked of his primary yoga teacher, he said: "Vinnie is the ultimate yoga instructor – skilled, occasionally brutal, yet compassionate and witty."
Jeremy Piven
Yoga is a way to feel balanced physically and mentally, and this is what draws actor and producer Jeremy Piven to his mat. He spends a great deal of time off-camera devoted to developing his connection to self and building stamina.
REASON FOR PRACTICING
"If you don't balance your life, you're going to be brought to your knees – that's basically what happened to me," the star was quoted in Men's Fitness on why he started practicing yoga. His practice serves as a way to feel good from the inside out.
STYLE OF CHOICE
Jeremy indulges in the slower-paced practices as opposed to more intense styles of yoga. This way he's able to witness his patience and put it to the test in an active manner.
Patricia Brooks
After spending nearly two decades as a relationship therapist, Patricia journeyed down the path of writing as a vehicle for sharing her wisdom. Her work reflects a sincere interest in readers' wellbeing and is abundant with helpful advice and fascinating insight.