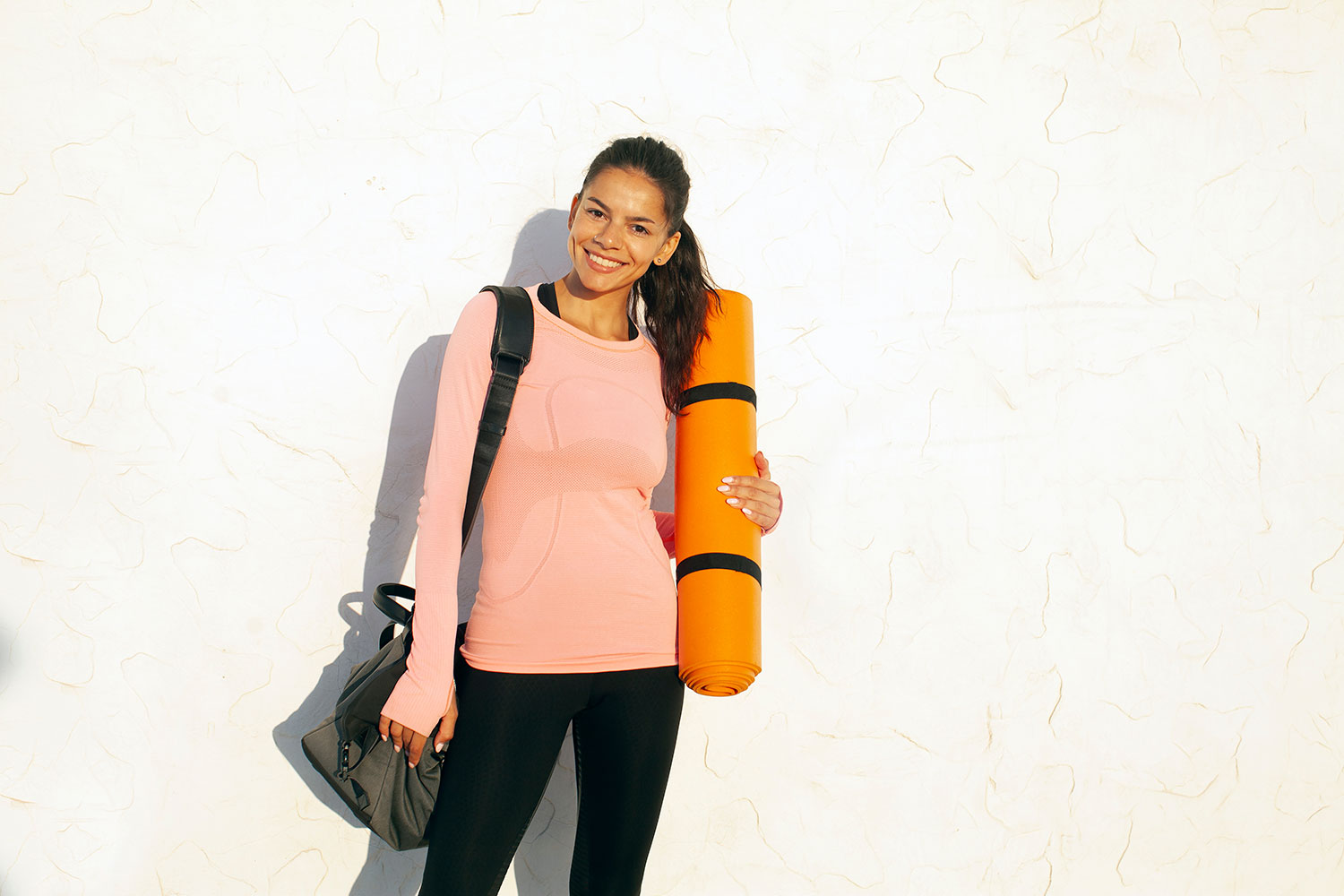 Yoga originated in Ancient India centuries ago. It didn't begin to gain international recognition until Tirumalai Krishnamacharya in 1924. No matter where you are in the world today, you've most likely heard about yoga. Maybe you even know someone certified to teach it — even if they don't plan on teaching!
If you've ever been to a yoga studio with your own mat, you know how inconvenient it can be to carry around that essential accessory. It's really more of a necessity than an accessory if you have any knee or back pain.
Those that have ever taken a bike to the studio have a full new understanding of the inconvenience the mat causes.
It didn't take long for people to start coming up with different methods to carry the long cylinder accessory.
Two Common Yoga Mat Strap Carrying Methods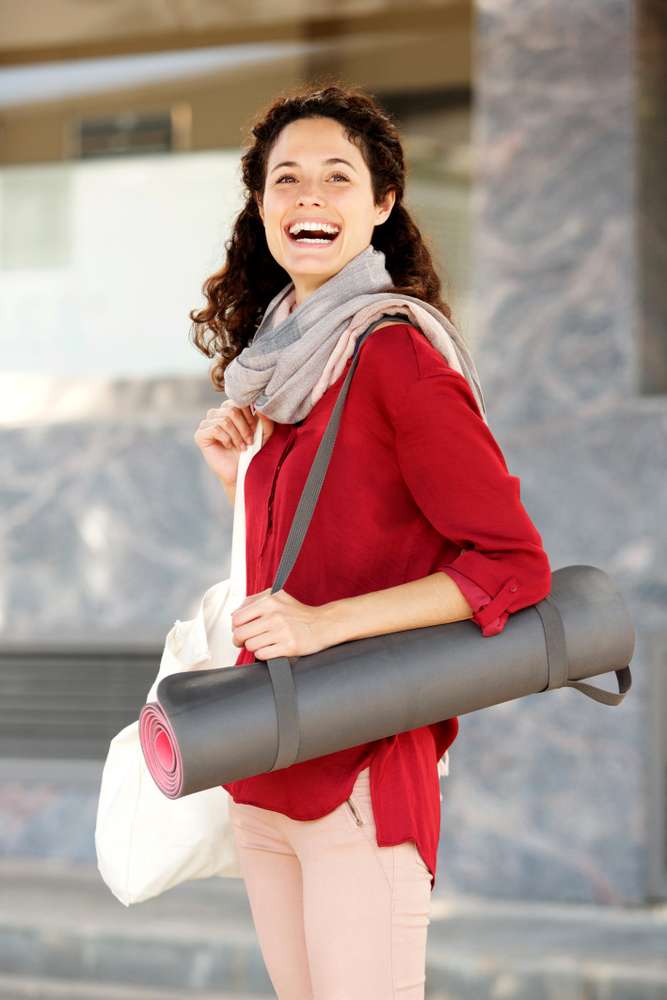 Yoga mat straps are incredibly useful. Not only do they help transport your yoga mat effortlessly wherever you need to go, but they can even be used in specific poses (asanas) to increase flexibility.
There are a few different yoga mat straps on the market, and it's good to be aware of what is out there. However, it is relatively easy for someone to make their own yoga mat strap for a fraction of the price. Below are two methods in particular that only require a few feet of fabric and a couple of D-rings to get the job done.
Method 1:
This method is by far the easiest way to wrap up your yoga mat quickly and with minimal effort. It simply wraps around each end of the yoga mat to turn it into almost a messenger bag of sorts.
Below are step-by-step instructions to make this type of yoga strap:
Lay the strap with both D-rings sitting on top of the yoga mat and the end of the strap wrapped around the bottom.
Take the end of the strap through both D-rings.
Then fold one D-ring back and feed the strap through the D-ring.
Take the rest of the strap and wrap it around the other end of the yoga mat.
Simply tie a knot with the remainder of the strap.
If done correctly, you can adjust the tightness of the strap with this end too.
Method 2:
The second method is a little more intricate and time-consuming than the first method. However, it's worth it if you travel by bike to the yoga studio. It helps to protect against any bumps in the road that could result in the yoga mat falling out of the strap altogether.
This method is recommended because of how safe and durable it is. It features the strap extending down the length of the yoga mat, as well as wrapping around each end. The added coverage secures the mat in place, but it also ensures the strap doesn't loosen up during the journey.
Sure, it might take you a little longer to get the mat into the strap each time, but it allows you to carry the mat like a backpack without the hassle of losing the mat.
Below are step-by-step instructions to make this type of yoga strap:
This method begins the same as the first method:

Take both D-rings and place them on top of one end of the yoga mat.
Then, wrap the rest of the strap around the end and through both D-rings.

Once this step is completed you:

Take the strap and lay it along the length of the yoga mat.
Then, while holding the strap flat on top of the mat, make a 90-degree fold and wrap the strap around this end of the yoga mat.
Once the strap is wrapped around the mat, take the excess and fold it underneath the 90-degree angle.
Then, take the remainder of the strap back to the beginning and feed it through both of the D-rings once again.
To secure the strap, feed it back through just one of the D-rings.
No knots are needed for this method! You are ready to go!
The main point of carrying a yoga mat with a yoga strap is to make things more convenient for yourself. To experience the most benefit and convenience possible, you might want to practice each method a few times to really get the hang of it.
Find the method that works the best for you and practice until it becomes second nature. The last thing you want to do is be stuck at the yoga studio, unable to leave because you can't get your mat back into your strap.
For even more convenience, here is a video to help you create your own yoga mat strap!
Maybe you are someone that would rather buy something that takes the hassle out entirely, something that doesn't take practice to master. If you are this person, then perhaps purchasing a professionally-made yoga mat strap is the way to go.
The Different Straps Available on the Market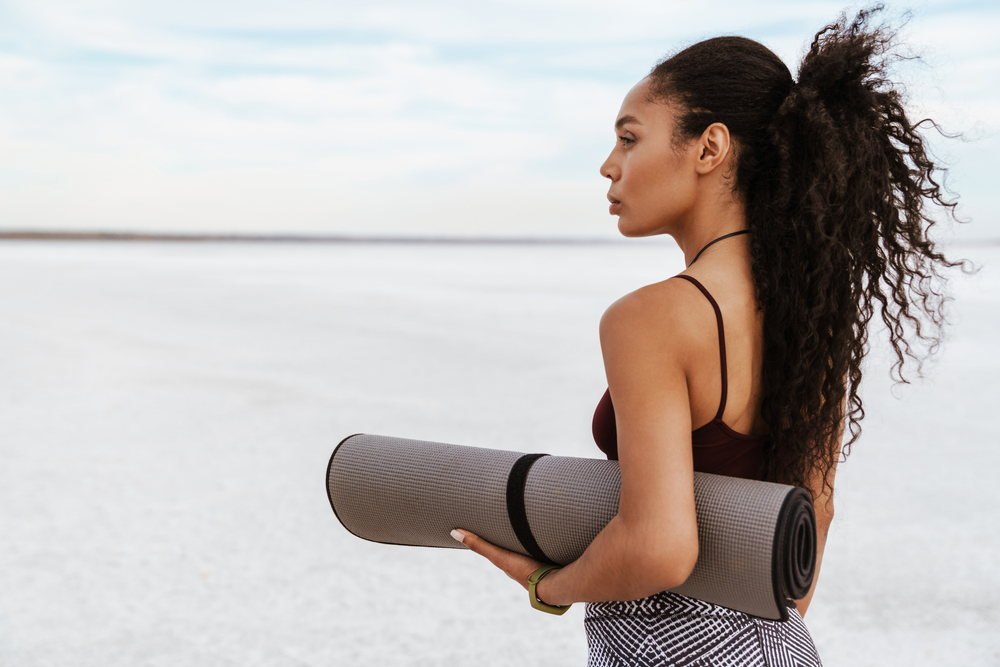 The easiest method for carrying a yoga mat is by far the yoga sling. Of course, the above-stated two methods create different types of yoga slings. However, there are three types of yoga slings available on the market today that are designed for convenience and durability. They do not require you to tie any knots or much effort at all.
These yoga slings are:
The Simple Sling:

Made by multiple retailers and usually made with durable nylon and velcro for added convenience.
This sling works like method one above. It simply wraps around each end of the yoga mat and secures it in place with velcro straps.
It's quick, simple, and painless.
Perfect for anyone walking to the studio

The Harness:

Also made by multiple retailers and utilizes durable nylon. However, instead of velcro, it features easy-release side buckles.
This sling works like method two above. It wraps around each end of the yoga mat while featuring a part of the strap that wraps around the length of the mat as well. This ensures security for those bumpy rides, like when you ride your bike to the studio.
Each buckle snaps in and out of place with ease and ensures your mat stays put!

The Mat Schlepper:

This sling is much like the first one. However, it doesn't feature any velcro or buckles.
You simply roll up your mat small enough to fit in each loop of the strap and then let it expand once it is in place.
Doing so will ensure the mat is securely in place, and the strap won't come apart because it is sewn together specifically for added security.
These are all yoga mat straps on the market right now and are proven to work wonders when it comes to easily travel to and from the yoga studio.
That said, there are also other options if a yoga sling doesn't appeal to you. Maybe you've tried it in the past, and it doesn't seem to make things easier or secure enough for your mode of transportation to and from the studio. For instances of this nature, a yoga bag is the best option.
Yoga Mat Bags Add Another Layer of Convenience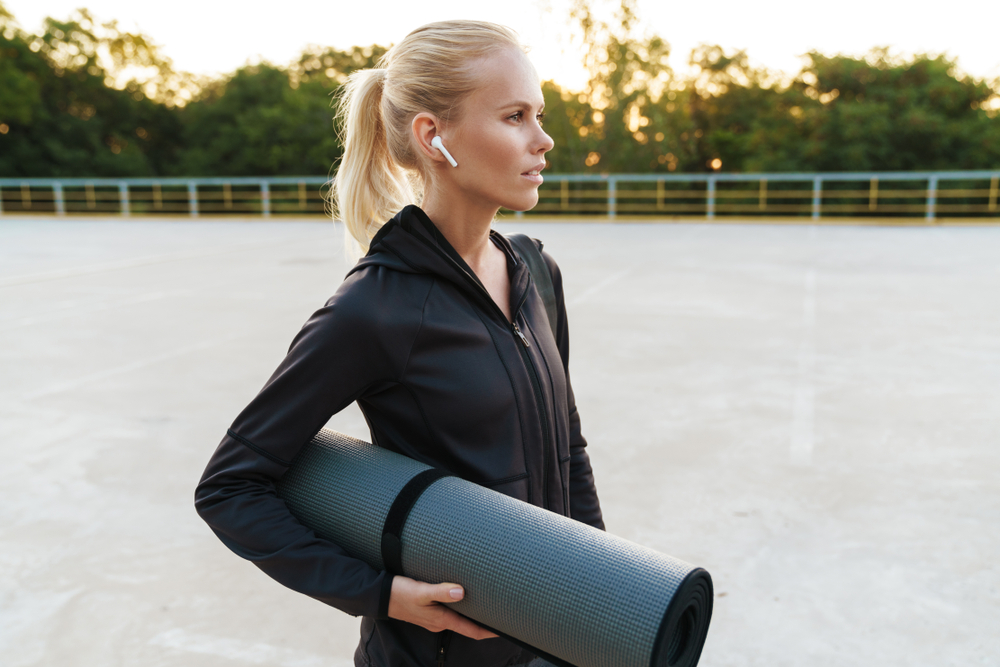 Yoga mat bags obviously aren't as simple as yoga mat straps, but they aren't meant to be. That said, functionality-wise, they are rather easy. You simply roll up your mat and place it inside, and voila! However, there are other functionalities that bags offer that you may or may not find necessary.
For example:
Most yoga mat bags will include at least one pocket.
Those with biodegradable mats will appreciate investing in a yoga mat bag rather than a strap because it will protect the mat from dust, dirt, and any other element that might hurt the mat in the long run.
Some popular yoga mat bags on the market include:
There are also "Journey" yoga mat bags that resemble small-sized travel duffle bags. Of course, you can always use a duffle bag with wheels and the whole-nine-yards if that's what you are looking for!
These bags are roomy, durable, lightweight, and most importantly, easy to use. They also seem to last longer than yoga mat straps, but not everyone needs all that added material just to carry their yoga mat.
The bottom line is that no matter what your needs are, there are different things you can do to make your travels to and from the yoga studio a lot easier.
There are sure to be more methods and accessories for carrying mats in the future as the popularity of the practice of yoga continues to increase. People become more and more innovative by the day. Still, there are multiple different things you can try for the time being that can significantly increase the convenience of lugging that awkwardly shaped yoga mat wherever you go.
Keep your yoga sessions simple and relaxing with one of the above-mentioned methods for traveling with a yoga mat.
Nicole Baker
A graduate of Arizona State University, Nicole Baker is a force to be reckoned with in the realm of health and wellness. She studied behavioral health, which propelled her desire to live holistically and share her knowledge with other like-minded individuals.